Pineapple Martini Recipe
Pineapple Martini is a tropical fruit cocktail drink made with either fruit infused vodka or flavored Vodka. This cocktail recipe uses the pineapple flavored vodka and fresh pineapple juice.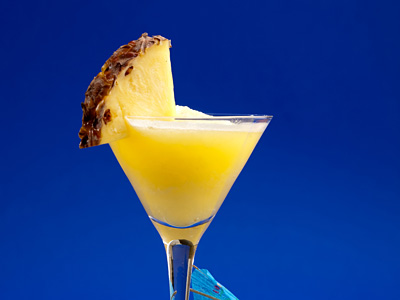 Preparation Time:
3 minutes
Ingredients:
60 ml (2 oz) Pineapple Vodka
10 ml (1/3 oz) Dry Vermouth
20 ml (2/3 oz) Pineapple Juice
1 Pineapple Piece, cut in triangle
Ice Cubes
Directions:
Fill cocktail shaker half way through with ice cubes.
Add pineapple vodka, dry vermouth and pineapple juice into a cocktail shaker and shake it vigorously.
Strain and pour chilled drink into cocktail glass.
Garnish by sliding pineapple piece on rim of the glass and serve.
Tips and Variations:
Use homemade pineapple infused vodka for real fruit taste.
Add a dash of simple syrup and lime juice to make this martini sweet and sour.