Irish Martini Recipe
It is a martini with a splash of Irish whiskey. This martini is particularly prepared and served in parties to celebrate St. Patrick's Day. There are two ways to prepare this St. Patrick's Day special cocktail; one is to mix Irish whiskey with other martini ingredients and second is to coat inner surface of serving glass with Irish whiskey. This Irish martini recipe uses the second approach.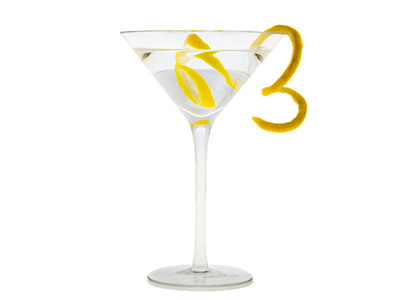 Preparation Time:
3 minutes
Ingredients:
60 ml (2 oz) Vodka
15 ml (1/2 oz) Dry Vermouth
15 ml (1/2 oz) Irish Whiskey
1 Lemon Zest or Lemon Twist
1 cup Crushed Ice
Directions:
Put crushed ice into cocktail shaker and fill until half.
Add vodka and dry vermouth in cocktail shaker and shake well until ice-cold.
Take chilled martini glass and pour Irish whiskey in it. Swirl the glass slowly to coat its inner wall with whiskey. Discard the excess whiskey (or just gulp it down or if you are making multiple drinks, then simply transfer it to another glass and coat all glasses one after another. In the end just gulp it down).
Strain and pour prepared mixed drink into whiskey coated serving glass.
Garnish with lemon zest or lemon twist and serve.
Tips and Variations:
Instead of discarding whiskey, mix it with other cocktail ingredients in martini shaker and pour it in chilled serving glass.
This is a strong and potent drink. Drink it responsibly.
Taste:
A classic taste of vodka mixed with dry vermouth with a hint of Irish whiskey.
Serving Ideas:
It is typically served during St. Patrick's Day celebration parties. However, it can be enjoyed any time of the year for relaxed evenings at home or in parties.