Ketel One Martini Recipe
This martini is nothing but a premium cocktail prepared using Ketel One Vodka which has smooth, pure and crisp taste achieved by using traditional pot still process and modern distilling techniques. This Ketel One Martini is a mix of 3 parts vodka and 1 part dry vermouth served in chilled martini glass and garnished with olives or lemon twist.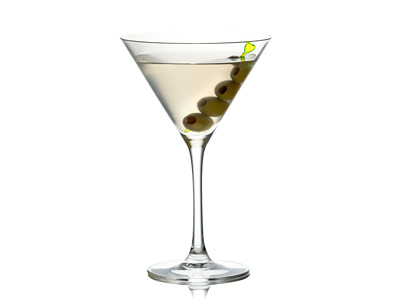 Preparation Time:
3 minutes
Ingredients:
60 ml (2 oz) Ketel One Vodka
20 ml (2/3 oz) Dry Vermouth
4 Cocktail Olives
1 cup Cracked Ice
Directions:
Shake vodka and dry vermouth in a cocktail shaker filled with ice.
Fine strain and pour mixed drink in chilled martini glass.
Skewer green olives on cocktail pick and garnish with it, serve.
Tips and Variations:
Make sure that you have chilled martini glass for serving this cocktail. Put it in freezer for 15-20 minutes before starting for preparation or simply add water and ice in it and let it chill for 5 minutes.
Use lemon twist as garnish.
Add 15 ml (1/2 oz) olive brine to make premium dirty martini.
Serving Ideas:
It looks elegant and stylish on the dinner table. Enjoy it as a pre-dinner cocktail or during social hours.