007 Martini Recipe
Each James Bond movie has shown how spy hero likes his cocktails to be made. Few of the bond's favorite cocktails are Vesper Martini, Vodka Tonic, Black Velvet, Americano, stinger, etc. This 007 Martini recipe is from movie "Goldfinger" that made "shaken not stirred" martini famous.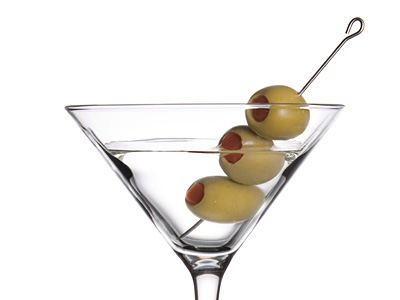 Preparation Time:
3 minutes
Glassware:
Martini glass.
Ingredients:
50 ml (1 2/3 oz) Vodka
10 ml (1/3 oz) Dry Vermouth
3 Whole Green Olives
Ice Cubes
Directions:
Take vodka, dry vermouth and ice cubes in a cocktail shaker and shake it vigorously.
Strain and pour mixed drink in serving glass.
Skewer green olives on a cocktail pick and rest it inside chilled glass and serve.
Tips and Variations:
Use premium quality vodka like Ketel One or your favorite brand for best taste.
If olive is not available, then use lemon twist or lemon zest for garnishing.
James Bond likes his martinis to be shaken not stirred; however, if you feel that shaking bruises vodka, then prepare it by first pouring dry vermouth in glass followed by vodka and then stirring them together.
Ice cubes in cocktail shaker dilutes the drink. If you want stronger martini, then use pre-chilled ice-cold vodka and dry vermouth in shaker without adding ice in it. Serve it in a chilled glass.
Taste:
Stronger taste of vodka with mild aromatic botanical hints of dry vermouth.
Serving Ideas:
This is a perfect party drink for business and social get-together.