Green Apple Martini Recipe
Green apple martini, a fruit martini with looks to die for, is a tempting variation of apple martini. Whether it's a spring, summer or winter, it will always soothe your senses and satisfy your taste buds. The perfectly balanced sweet and sour apple drink is very easy to prepare by following this recipe.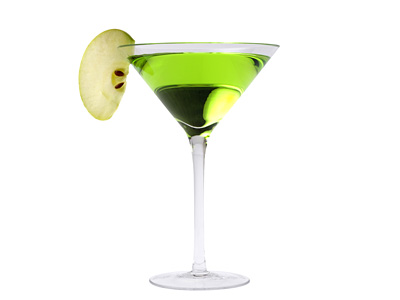 Preparation Time:
3 minutes
Ingredients:
30 ml (1 oz) Vodka
30 ml (1 oz) Green Apple Schnapps
30 ml (1 oz) Lemonade
30 ml (1 oz). Lemon Lime Soda (Sprite or 7 Up)
1 Green Apple Slice
1 cup Crushed Ice
Directions:
Fill up cocktail shaker half way through with crushed ice.
Add all ingredients in cocktail shaker and shake them for approx 20 times.
Strain and pour chilled mixed drink into chilled martini glass.
Garnish with green apple slice and serve.
Tips and Variations:
Increase the quantity of vodka to 60 ml (2 oz) if you like your martinis to be stronger.
To make traditional sugar-cinnamon garnishing, dip rim of the glass in lime juice and then in mixture of fine sugar and cinnamon.
Use fresh green apple juice instead of lemonade for complete indulgence.
Taste:
Sweet and sour green apple schnapps mixed with vodka has a lively green color and tastes heavenly till its last drop.
Serving Ideas:
It is a perfect drink to serve as before or after dinner cocktail.