Caramel Apple Martini Recipe
Caramel Apple Martini is an absolute treat to taste buds. Satisfy your desire to try something sweet, sour, smooth and creamy by having this martini as dessert in your parties.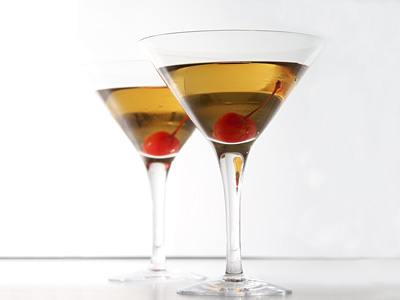 Preparation Time:
3 minutes.
Ingredients:
30 ml (1 oz) Vodka
60 ml (2 oz) Sour Apple Pucker
60 ml (2 oz) Butterscotch Schnapps
1 Maraschino Cherry
1 cup Crushed Ice
Directions:
Fill up cocktail shaker half way through with crushed ice.
Add all martini ingredients in cocktail shaker and shake for 30-35 seconds.
Pour mixed drink through strainer into serving glass, drop cherry in it and serve.
Tips and Variations:
Increase the quantity of vodka to 60 ml (2 oz) if you like your drink to be stronger.
Make sure that all ingredients and martini glass are absolutely chilled for best experience.
The alternate and more appropriate garnish would be caramel syrup. Just spread it on the inside wall of glass before strainiong the drink in the glass. The caramel syrup can be easily made at home by melting caramel chocolate chips.
Serving Ideas:
Serve it as before or after dinner drink. It is worthy for award of "The Perfect Holiday Martini".