Swedish Fish Martini Recipe
Swedish Fish Martini, Yum!!! That's how people react to it when they try it for the first time. It is a sweet red colored concoction of vodka, triple sec, cranberry juice and lime juice. Try this sweet temptation and we are sure that you will fall in love all over again with martini.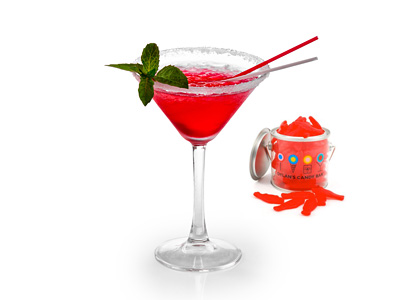 Preparation Time:
5 minutes
Ingredients:
60 ml (2 oz) Vodka
30 ml (1 oz) Triple Sec
30 ml (1 oz) Cranberry Juice
10 ml (1/3 oz) Lime Juice
1 Swedish Fish Candy
Ice
Directions:
Optional Step – Frost the rim of glass with bar sugar.
Half fill cocktail shaker with crushed ice.
Take vodka, triple sec, cranberry juice and lime juice into cocktail shaker and tumble it as much as possible for 30 seconds.
Take pre-chilled martini glass; strain and pour chilled drink in it.
Take one Swedish fish candy (If you don't have the candy then use mint sprig) and garnish drink with it.
Tips and Variations:
Use cranberry liqueur instead of triple sec for more fruit flavor.
Shake cocktail shaker as much as you desire. More shaking will dilute the strong vodka flavor.
Taste of martini depends on quality of ingredients and preparation method. For best experience, use high quality vodka.
Add lime juice directly in serving glass instead of mixing it with other ingredients into cocktail shaker for different taste.
Taste:
Chilled Swedish fish cocktail tastes sweet and smooth with cranberry flavor in every sip.
---
1 Comments
---
Jul 12, 2012 by Richard
very nice recipe. i never though swedish fish can be used to make such a nice and tempting drink.

---