Key Lime Pie Martini Recipe
Key Lime Pie Martini! Yummy! The name itself brings alive the creamy taste of key lime pie. The rich, creamy, smooth and addictive martini prepared with this recipe is not just palatable but potent as well. Get spirited and take your celebrations to a new high with this easy drink recipe and get indulged.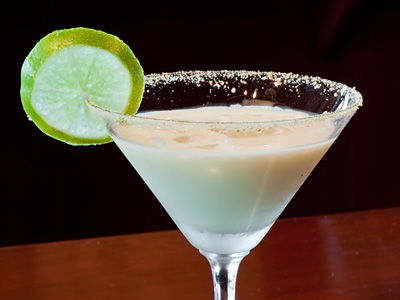 Glassware:
Cocktail glass
Ingredients:
60 ml (2 oz) Vodka
30 ml (1 oz) Triple Sec
30 ml (1 oz) Key Lime Cordial
1/2 cup Heavy Cream
Graham cracker crumbs
Honey
1 Lime Wheel
Ice Cubes
Directions:
Prepare martini glass and frost its rim with Graham cracker crumbs – Pour honey into small flat plate, dip the rim of glass in it and coat it evenly. Spread graham cracker crumbs in another flat plate, dip honey-coated rim in it and rotate it. This will make graham cracker crumbs to stick to rim. Put garnished glass in freezer for up to 30 minutes to chill.
Fill up cocktail shaker with ice until 2/3 capacity. Pour all ingredients over it and shake vigorously.
Take out the garnished martini glass from freezer; strain and pour cocktail in it, place lime wheel on its rim and serve.
Tips and Variations:
Use vanilla flavored vodka instead of plain vodka for fuller taste.
Use key lime liqueur instead of triple sec if available.
You can also use Half and Half (Half Milk and Half Cream) instead of heavy cream. This will make less creamy martini.
For garnishing with graham cracker crumbs, use finely crushed graham crackers.
Taste:
Sweet, creamy and lemony.
Serving Ideas:
It is great for summer parties.