Candy Cane Martini Recipe
There is no other better way to celebrate Christmas and New Year than classy candy cane martini and blend in to the flavor of the season too. This martini is not only looks swanky but its minty flavor will liven up the environment too.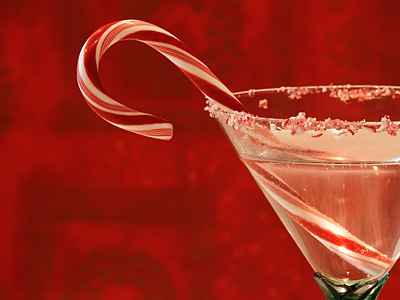 Preparation Time:
3 minutes
Ingredients:
60 ml (2 oz) Vodka
20 ml (2/3 oz) Peppermint Schnapps
30 ml (1 oz) Carbonated Tonic Water
2 Candy Canes
Crushed Ice
Directions:
Crush one candy cane into powder. Rub the rim of martini glass with alcohol soaked paper towel and then dip its rim in crushed candy cane powder and place it in freezer to chill while you prepare the drink.
Fill cocktail shaker with crushed ice.
Add vodka and peppermint schnapps; shake until its icy chilled.
Strain and pour prepared mixed alcoholic drink into chilled garnished glass.
Pour carbonated tonic water, garnish with remaining candy cane and serve.
Tips and Variations:
Use alternative garnish of whole candy cane for different looks.
Crush candy cane by putting it in plastic bag and pounding it with rolling-pin or other heavy object.
Add a splash of white chocolate liqueur for chocolaty flavor.