Pineapple Coconut Martini Recipe
Pineapple and coconut, the two tropical fruits instantly reminds of warm and sunny tropical beaches. This pineapple coconut martini recipe creates a similar tropical experience at home. This simple alcoholic drink is a medley of coconut rum, pineapple schnapps, pineapple juice and lemon juice. This recipe also uses grenadine syrup to get tempting light yellow-red cocktail color.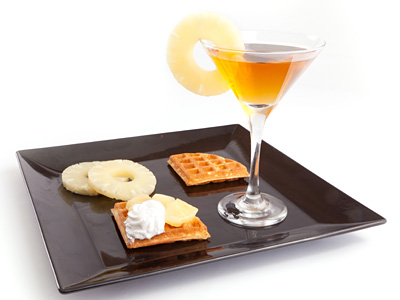 Preparation Time:
3 minutes.
Ingredients:
45 ml (1½ oz) Coconut Rum
30 ml (1 oz) Pineapple Schnapps
30 ml (1 oz) Pineapple Juice
10 ml (1/3 oz) Lemon Juice
10 ml (1/3 oz) Grenadine Syrup
1 Pineapple Ring (for garnishing)
Ice Cubes
Directions:
Build all pineapple coconut drink ingredients (except garnish) in cocktail shaker 2/3rd filled with fresh ice cubes.
Shake it vigorously to chill all ingredients. Strain and pour mixed alcoholic drink into chilled martini glass.
Garnish with pineapple wheel and serve.