Virgin (Non-Alcoholic) Margarita Recipe
Take the summer enjoyment to a new level with this non-alcoholic version of classic margarita. The tequila and orange liqueur of alcoholic margarita is replaced by simple soda water and orange juice respectively to make it virgin. Perfect refresher for kids at the table while adults enjoy the real one.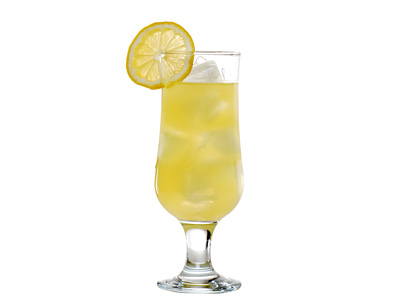 Preparation Time:
2 minutes
Glassware:
Hurricane glass
Ingredients:
2 oz (60 ml) Lime Cordial
2 oz (60 ml) Orange Juice
1 oz (30 ml) Lemon Juice
3 oz (90 ml) Club Soda
1 Lemon Wheel
Ice Cubes
Directions:
Pour cordial and both juices over ice in a mixing glass and shake well.
Strain into ice filled serving glass and pour soda. Give a nice stir and garnish with lemon wheel.
Alternate Directions:
Blend first three ingredients with ¾ cup crushed ice into icy slush.
Add club soda and blend again for few seconds.
Transfer to salt rimmed margarita glass, garnish with lemon wheel and serve virgin margarita with a straw.