Strawberry Caipirinha Cocktail Recipe
It's a delicious and fruity variation of classic Brazilian cocktail caipirinha. The combined muddling of fresh strawberries and green lemon gives a new dimension to its flavor profile making it fruitier and refreshing than ever.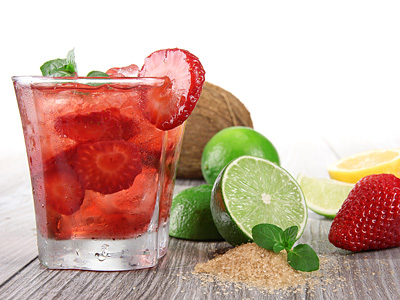 Preparation Time:
2 minutes.
Glassware:
Old fashioned Glass
Ingredients:
2 oz (60 ml) Cachaça
1/2 oz (15 ml) Sugar Syrup
3 Green Lime Wedges
3 Strawberries, sliced
1 Mint Sprig
1 scoop Crushed Ice (5-6 oz)
Directions:
Muddle lime wedges and strawberries in the mixing glass and extract its juices and oils.
Fill up mixing glass with ice and pour sugar syrup and Cachaça. Shake well for few seconds.
Pour everything into serving glass, garnish with strawberry slice and mint sprig.