Pina Colada Recipe
It is an alcoholic drink prepared by mixing tropical ingredients like coconut cream and pineapple juice with white rum. It is a world famous cocktail and National Drink of Puerto Rico, a country where it was invented in 1954. This authentic and original cocktail recipe of pina colada retains actual proportions of all ingredients used in original recipe and creates same magic as it used to create half a century ago.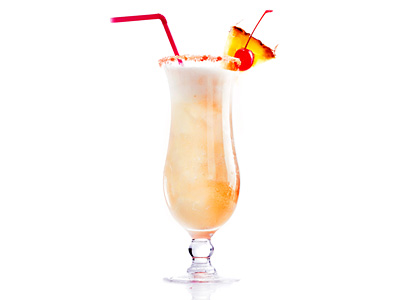 Preparation Time:
3 minutes
Glassware:
Hurricane glass
Ingredients:
45 ml (1½ oz ) White Rum
90 ml (3 oz) Coconut Cream
180 ml (6 oz) Pineapple Juice
1 Pineapple Wedge and Cherry
Crushed Ice
Directions:
Take all pina colada cocktail ingredients in mixer jar.
Blend in electric mixer until smooth.
Pour into chilled Collins glass, add straw, garnish with pineapple wedge and cherry.
Tips and Variations:
If drink prepared with this recipe is light for you, then reduce the quantity of pineapple juice to 120 ml (4 oz)
Make sure that coconut cream is thick enough. If it is thin, then resultant cocktail drink will not have desired thickness. To increase its thickness, add condensed cream.
Use Coco Lopez coconut cream if available. Original recipe had used it to make best pina coladas ever.
Serving Ideas:
It is best enjoyed on a beach-side or pool-side party in summer where beach environment comes alive. This refreshing tropical delight can be enjoyed at any time of the day.