Frostini Recipe
Frostini, a smooth and creamy cocktail of coffee and cream liqueurs is an absolute warm bliss on chilly wintery nights. That's not all, its taste goes well with the flavors of the season too.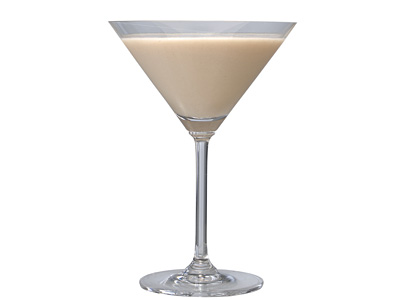 Preparation Time:
3 minutes
Ingredients:
30 ml (1 oz) Peppermint Schnapps
30 ml (1 oz) Coffee Liqueur
30 ml (1 oz) Cream Liqueur
1 Fresh Mint Sprig
1 cup Crushed Ice
Directions:
Take cocktail shaker and half fill it with crushed ice.
Pour peppermint schnapps, coffee liqueur and cream liqueur over ice and shake rigorously.
Strain and pour mixed drink into chilled cocktail glass.
Garnish it with a sprig of fresh mint and serve.
Tips and Variations:
Use Starbucks coffee liqueur and Starbucks cream liqueur for authentic taste.
If Starbucks is not an option for you, then use Godiva original liqueur, Baileys Irish cream liqueur and vodka in equal parts.
Add 1 tablespoon heavy cream for creamy and frothy cocktail for dessert.
Taste:
Smooth, light and creamy with lingering refreshing flavor of mint.
Serving Ideas:
It tastes best on cold wintery nights and goes well with flavor of Christmas holiday season.