Vodka Collins Drink Recipe
This cocktail is like lemonade on steroids. Sugar syrup, lemon juice and soda make it taste like lemonade while vodka provides the feel of an alcohol. Light, refreshing and simply irresistible.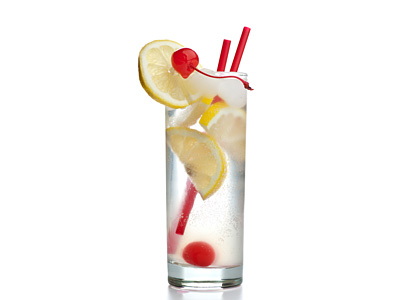 Preparation Time:
2 minutes
Ingredients:
2 oz (60 ml) Vodka
2/3 oz (20 ml) Simple Sugar Syrup
2/3 oz (20 ml) Fresh Lemon Juice
Club Soda
2 Lemon wheels
2 Cherries with Stem
Ice Cubes
Directions:
Add vodka, sugar syrup and lemon juice in ice filled mixing glass and shake thoroughly.
Strain and pour in ice filled serving glass. Cut one of the lemon wheels into halves and drop them in the glass. Top with soda and gently stir.
Garnish with remaining lemon wheel and cherry. Serve with straw.