Gingerbread Martini Recipe
Smooth and Creamy textured vodka infused gingerbread martini is very easy to prepare and a perfect way to celebrate the festive season. Learn how to make this tempting and addictive cocktail dessert with this mixed drink recipe.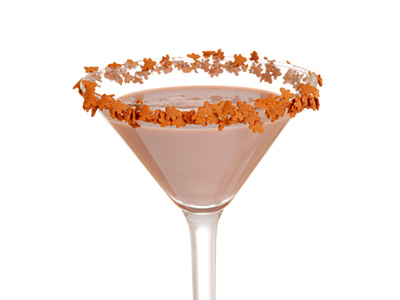 Preparation Time:
3 minutes
Ingredients:
60 ml (2 oz) Vodka
60 ml (2 oz) Irish Cream Liqueur
30 ml (1 oz) Coffee Liqueur
30 ml (1 oz) Gingerbread Syrup
1 Scoop Vanilla Ice Cream, half melted
1 Gingerbread Cookie
1 cup Crushed Ice
Directions:
Crush gingerbread cookie and frost the rim of glass with it.
Half fill cocktail shaker with crushed ice.
Add all remaining cocktail ingredients in it. Shake until frosted from outside.
Take garnished martini glass; strain and pour mixed drink in it.
Tips and Variations:
Add a splash of butterscotch liqueur for extra caramel flavor.
Add 15 ml (1/2 oz) whipped cream in cocktail shaker for even creamier and smoother dessert drink.
Serving Ideas:
This sweet and creamy cocktail dessert is a great way to end your sumptuous dinner for a mild kick.