Tom Collins Drink Recipe
It's light, refreshing and ultimate thirst quencher. The maraschino cherry and lime wheel garnish makes Tom Collins more appetizing and modern.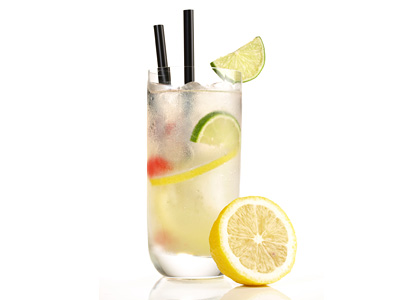 Preparation Time:
2 minutes
Glassware:
Highball glass
Ingredients:
2 oz (60 ml) Gin
1 oz (30 ml) Lime Juice Cordial
½ oz (15 ml) Lemon Juice
3 oz (90 ml) Soda Water
1 Lime wheel (cut into 2 parts)
1 Maraschino Cherry
Ice Cubes
Directions:
Take cocktail shaker and add ice cubes in it until 2/3rd full.
Add gin, cordial and lemon juice in it and shake for 10-15 seconds.
Add few ice cubes in the serving glass and strain chilled drink in it. Add half lime wheel, top with soda and gently stir.
Drop maraschino cherry in the drink and rest remaining lime wheel half on the rim of glass. Serve with straw.