Aviation Cocktail Recipe
 The Crème de Violette and maraschino liqueur provides light floral and refreshing cherry notes to the gin base. The very light lavender hue of this aviation drink is subtle yet mood enhancing. If you can't get your hands on elusive Crème de Violette, you can just leave it out.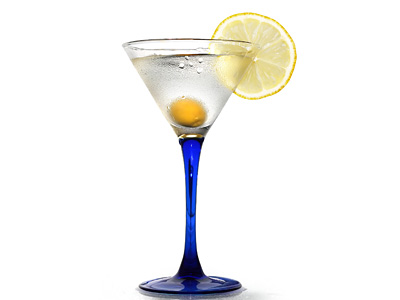 Preparation Time:
2 minutes.
Ingredients:
2 oz (60 ml) Gin
1/2 oz (15 ml) Fresh Lemon Juice
1/2 oz (15 ml) Maraschino Liqueur
1/3 oz (10 ml) Crème de Violette (Monin or Rothman & Winter)
1 Cocktail Olive
1 Lemon Ring
Ice Cubes
Directions:
Shake gin, lemon juice, maraschino liqueur and crème de violette with ice in cocktail shaker. Strain and pour drink into chilled cocktail glass.
Drop olive in it and garnish with lemon ring.
Glassware:
Cocktail Glass.