Flirtini Recipe
This cocktail's name itself brings naughty thoughts of getting wild, free and flirtatious. This sweet and sensual cocktail is light on alcohol and heavy on experience and taste. Have this flirtini martini once and you will end up having it again and again until you are down!!!.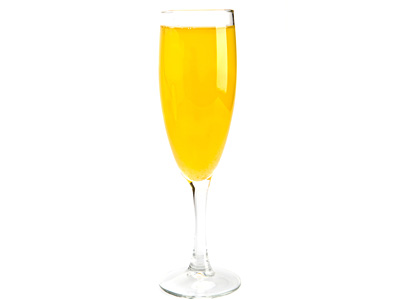 Preparation Time:
3 minutes
Glassware:
Champagne Flute
Ingredients:
30 ml (1 oz) Vodka
60 ml (2 oz) Champagne
60 ml (2 oz) Pineapple Juice
1 cup Crushed Ice
Directions:
Take cocktail shaker and fill it with crushed ice until 2/3 full.
Pour vodka and pineapple juice over it, screw the cap and shake for 30-40 seconds
Strain and pour chilled vodka and pineapple mix into chilled champagne glass.
Top with champagne, garnish as desired and serve.
Tips and Variations:
If you have fresh pineapple available, then take couple of chunks of pineapple in cocktail shaker before putting ice in it, muddle it with vodka and then add ice, shake well. This adds fresh pineapple taste to martini.
Add 30 ml (1 oz) of cranberry juice to make it extra sensual.
If you are making it for parties, then top cocktail with champagne just before serving to preserve its bubbles.
This martini tastes best only when all ingredients are absolutely chilled. Freeze all ingredients for 2-3 hours before preparation.
Taste:
This bubbly and fruity drink is sweet and light. It has all the right ingredients, taste and flavor to be called as perfect Valentine's Day cocktail.
Serving Ideas:
It is a perfect cocktail for kitty parties, girl's night-ins and bachelorette parties. This romantic light alcohol cocktail is a sweet and sensual complimenting drink for romantic occasions like Valentine's Day, anniversaries, dates, etc.